With all of the talk in Washington about equality, you have to wonder how the gap between rich and poor has widened to the point where even The New York Times is questioning the future survival of the middle class.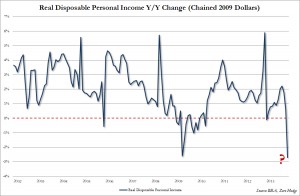 Some have, indeed, made the transition from middle class to upper class and are enjoying a more comfortable lifestyle.  They may not be part of the 1%, but they've broken away from the middle.
The New York Times noted that, "In 2012, the top 5 percent of earners were responsible for 38 percent of domestic consumption, up from 28 percent in 1995 … Even more striking, the current recovery has been driven almost entirely by the upper crust … Since 2009, the year the recession ended, inflation-adjusted spending by this top echelon has risen 17 percent, compared with just 1 percent among the bottom 95 percent."
Put aside your class envy for a minute, though, and recognize that consumer spending by the top 5 percent is keeping the economy out of a recession – albeit, the current recovery has been so weak we may as well be in a recession.
The Great Divide
And while some are moving up, many more are falling down, creating a greater divide than ever between rich and poor.  Consider a few statistics from a cheery blog called, The Economic Collapse (and republished on Zerohedge): (more…)