Each day, another 8,000 baby boomers turn 65.
The U.S. Census Bureau says there are more than 77 million baby boomers, defined as those born between 1946 and 1964.  By 2030 all boomers will be over 65 and will represent about 20% of the population.
So, given the growing number of boomers who have reached retirement age, why is the unemployment rate still so high?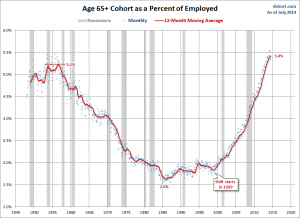 Based on the official U-3 statistics, unemployment is still at 6.2%.  That's much better than the 10% rate we had in 2009, but it's considerably higher than the 3.9% rate the U.S. enjoyed in 2000 – which was long before baby boomers even thought about retirement.
If Americans are retiring at 65, that should open up more than a quarter million new jobs per month – on top of job growth caused by economic recovery.  So when the Bureau of Labor Statistics reports that 205,000 jobs were created in July 2014, it's not exactly a sign of prosperity.
The U-6 unemployment rate, which includes those who have given up looking for work, is still 12.2%, which is practically European.
So why is the unemployment rate still stubbornly high?