This was going to be the year.  Remember the predictions of 3% economic growth?
More recently, the consensus was 1.2% growth for the most recent quarter.
It turns out, though, that the economy has flat-lined, growing at a puny 0.1%, quarter over quarter.  Even the 2% growth we've experienced throughout the 58 months of economic recovery we've had (see last week's post) looks good in comparison to what we're experiencing.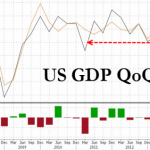 Keynesians, undaunted by being wrong 100% of the time, have been predicting for years that prosperity is just around the corner.  The only thing around the corner, though, has been another corner, then another.  It's time to realize that we've been going in circles.
Growth of 0.1% is, of course, just a whisker's width away from recession.  Maybe that's what's around the corner.
Two areas of weakness were trade, which subtracted 80 basis points from GDP growth, and inventories, which subtracted 60 basis points.  You may recall that in Q4 of 2013, when economists were talking about strengthening growth, it was because inventories were increasing.