The idea was logical enough.
Reduce interest rates, making housing more affordable, which would produce a recovery in the housing market.  The housing market was at the heart of the financial crisis, so bringing the housing market back to health would, presumably, bring the economy back to health.
That conclusion was sound, too.  Housing is a leading economic indicator, so a recovering housing market should mean a recovering economy.
But in economics, as in life, things don't always go as planned.  The housing market still hasn't recovered.  And, while low interest rates may have given housing prices a boost, they have not increased home
ownership.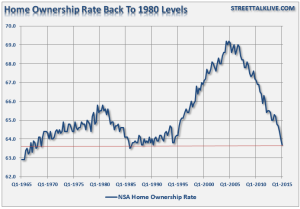 In addition, government programs have only made matters worse, while costing taxpayers a bundle.
As Lance Roberts noted on his Street Talk blog, "trillions of dollars have been directly focused at the housing markets including HAMP, HARP, mortgage write-downs, delayed foreclosures, government backed
settlements of 'fraud-closure' issues, debt forgiveness and direct buying of mortgage bonds by the Fed to drive refinancing and purchase rates lower."
Yet, as the chart shows, the net result has been that the home
ownership rate has dropped to where it was in 1980.
Why did government help
" fail would-be homeowners?