The recovery that wasn't a recovery may have come to an end, as the Bureau of Economic Analysis reported that gross domestic product dropped by 1% during the first quarter of 2014.
Even with the drop in GDP, lower housing sales and continued high unemployment, no one is saying the economic is in a recession.  Perhaps when a recovery is as insignificant as the one we've experienced for nearly five years, the distinction between recession and recovery is insignificant.
The economy was in sad shape five years ago and it's in sad shape today, in spite of record stimulus spending, bond buying, and warm and fuzzy messages from the President, Congress and the Fed.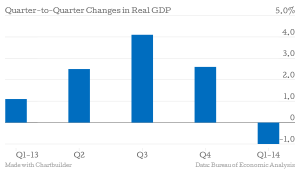 But fear not.  The bar is so low now, even a baby step over it will look like a high jump.  At least that's the opinion of PNC Chief Economist Stuart Hoffman who wrote, "I believe this real GDP decline, mostly due to the polar vortex, coiled the 'economic spring' even tighter for a sharp snap-back (boing!) this quarter, where I have an above-consensus forecast for a 4.0% annualized rise in real GDP."
In other words, bad news for the first quarter is good news for the second quarter.  Stop me if you've heard that story before.