It's all stress-free bliss these days … at least for anyone who's not paying attention.
Has someone been putting anti-depressants in the water supply?  That's one way to explain Wednesday's non-reaction to the report that the economy shrank by 2.9% in the first quarter – not the 1% drop previously reported.
It would also explain continued investor complacency reported last week, with the VIX (volatility index) approaching single digits.  And it would explain the plunge in junk bond yields to 5.6%, which is a full 3.4% points lower than the decade-long average of 9%.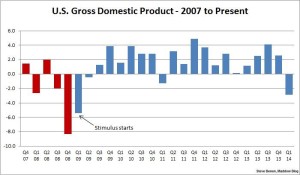 Yet investors showed that they still have a pulse, when they took the Dow down 100 points after James Bullard, president of the St. Louis Federal Reserve, announced that an interest rate hike may take place in the first quarter of 2015.
So consider this in context.  In addition to the slumping economy, we have Russia's continued takeover of Ukraine, which is now being overshadowed by the continued takeover of Iraq by Muslim terrorists known as ISIS and the possibility of U.S. military intervention.  We have civil war continuing in Syria and continued nuclear development in Iran, in spite of the lifting of sanctions.  We have U.S. veterans in need of medical treatment being ignored while the Veterans Administration fudges numbers.  We have the missing e-mails of Lois Lerner and six other IRS employees who allegedly targeted conservative groups.  We have continuing fallout in the healthcare industry from the pains of implementing Obamacare.  We have a stock market so overblown that price-to-earnings ratios are at levels higher than they've been through 89% of the history of the S&P 500.
So what's moving the market?  A statement made by a Fed board member that repeats a statement he previously made.