It's a sign of America's strength and its position as leader of the free world that the dollar is the world's reserve currency.
Just as English is the closest we've come to an internationally accepted language, the dollar is a common denominator, held in reserve by governments and institutions around the world, and used in international transactions.
But that may be changing.  And if it does, we can blame ourselves – or, more specifically, the Federal Reserve Board.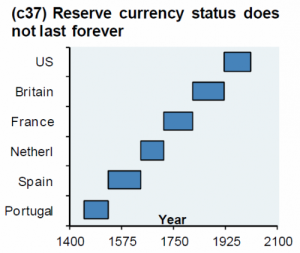 Why should we care?  With reserve currency status, the U.S. can:
Purchase imports and borrow internationally at a lower rate than other nations, because we don't need to exchange our currency to do so.  The lower rate saves America about $100 billion a year.
Avoid a potential currency crisis.  When countries don't have enough foreign exchange reserves to maintain the country's fixed exchange rate, they face a currency crisis.  The result is typically attacks by speculators in the foreign exchange market and the devaluation of the currency.
Run higher trade deficits with less economic impact.
Print money to pay off its debts.
Preserve America's status as a world leader.  The dollar's reserve currency status is a symbol of American strength.  A loss of that role would be a sign of the country's diminished status.
So if the dollar loses its reserve currency status, America is in trouble.  Government debt will rise, the cost of imports will be higher and the economy will suffer.