"This is what it sounds like when doves cry."
                                                                    Prince
Imagine this.  After more than five years of mediocre economic growth and a quarter of "negative growth," the economy grew at a rate of 4.0% in the second quarter.
At least that's what the Bureau of Economic Analysis (BEA) said.  The BEA previously estimated that the economy shrank by 2.9% during the first quarter, but has readjusted its analysis and now says that the economy shrank by 2.1% in the first quarter.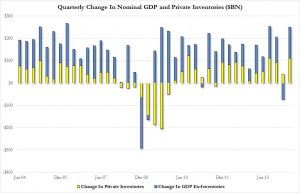 From 2.9% "negative growth" to 4.0% positive growth is a swing of nearly 7% in a span of just three months.
That's quite a swing … but do you believe it?  After all, Q1 growth was reported at -1%, -2.9% and finally -2.1%, so how much confidence should we have in the BEA's first report for Q2?
Meteorologists are often criticized for erring on the weather, but they're forecasting.  The BEA is trying to tell us what happened more than a month ago – and still can't get it right.