The weather has done it again.
The U.S. Bureau of Labor Statistics last week reported annualized growth of a piddling 0.2% for the first quarter of 2015.  The culprit, of course, is not bad policy, but bad weather, if you believe the Federal Reserve Board.
Last year the economy would have boomed during the first quarter, no doubt, if not for the "polar vortex," but instead it shrunk by more than 2% (experts use the oxymoron "negative growth").  The same people who believe that will likely believe that the U.S. economy would have boomed during the first quarter of 2015 if not for the dreadful winter.
At least no one's using the term "polar vortex" to describe the non-stop snowfall that hit much of America this past winter.  And this year's first quarter growth is multiples better than last year's first quarter mini-recession.
Winter may be over, but the economy remains cooled.  The Fed is likely hoping for monsoons, tidal waves and earthquakes over the next few quarters to rationalize yet more non-growth in an economy that falls short of Fed projections.  Per the chart below, the Fed has been overly optimistic about economic growth for each of the past four years – and that streak is likely to continue this year, given first quarter performance.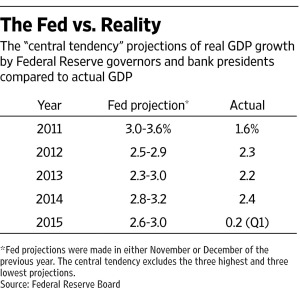 Fed predictions for the future continue to be rose-colored, but not as rosy as they were previously, based on the Fed policy statement issued last week.
"Federal Reserve policy makers said some of the headwinds holding back the U.S. will probably fade and give way to 'moderate' growth," Bloomberg reported.  Maybe the Fed considers 0.3% annualized growth to be "moderate," since it would be a 50% improvement over the first quarter.