Finally, the U.S. Treasury Department has figured out a way to reduce the federal debt – by giving money away.
That may not make sense, but keep in mind that we're talking about the federal government.  And that means that money isn't just given away; there are strings attached, unless you're a preferred government contractor or an expert in Medicare fraud.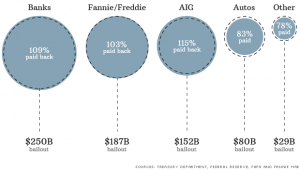 So consider this shocker.  Fannie Mae is scheduled to make a $7.2 billion payment to the U.S. Treasury next month and, when it does, the total payments from Fan and Fred will add up to $192.5 billion, exceeding the $187.5 billion they received from taxpayers.
Granted, a 3% profit over five years isn't really a profit, but we're talking about the "toxic twins" here.  And their payments are scheduled to continue, much to the chagrin of Fan and Fred shareholders.  They can just get in line, though.
That's not the only government bailout that's been profitable – the Troubled Asset Relief Program (TARP) required a $250 billion investment for troubled banks, but brought in more than $272 billion, a profit of about 9%.  AIG's bailout was even more lucrative, bringing in $22 billion on an investment of $152 billion, for a 15% return.