"Credit is a sacred trust, it's what our free society is founded on. Do you think they give a damn about their bills in Russia?"                                                                                                                                                 Bud in "Repo Man"
The good news for the economy is that consumers are buying more.  The bad news is that they're not paying for what they buy.
The Urban Institute found that more than a third of Americans are not only in debt, but are being chased down by debt collectors.  Debt collectors are, of course, a last resort; they're used when all else fails and the debtor is more than 180 days past due.  When a consumer goes six months without paying a bill, it's a good sign the person either has no intention of paying or is unable to pay.
Yet about 77 million Americans – 35% of adults with a credit file – have debt in collections.  They owe an average of $5,178, which doesn't sound like much, but keep in mind that's debt that's gone into collection, not total household debt.  It does not include mortgage debt, but does include credit card, medical and utility debt.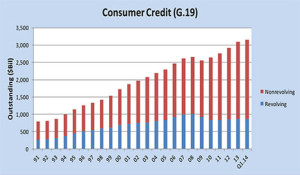 The average American household has $15,480 in credit card debt alone and consumer debt totals $11.74 trillion.  Add in federal debt, corporate debt, state government debt, municipal debt and the debt of other countries and it's a wonder that anyone anywhere is still solvent.
You may recall the cheering that took place in 2009, when consumer debt levels decreased.  But, as the chart shows, that was a small mogul on a steep and steadily rising mountain of IOUs.