With the Federal Reserve Board celebrating its 100th birthday, it's a good time to look back on the past century to see how The Fed has fared.
We've been critical of The Fed's quantitative easing program, but that accounts for only the past five years of Fed history.  How has it fared in the previous 95 years?  Overall, has its work improved life for Americans or has it been a negative force?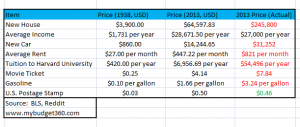 The Fed's role is to ensure the safety and soundness of financial institutions, stability of financial markets, and equitable treatment of consumers in financial transactions.  But its activities are primarily focused on using America's money supply to manage inflation, unemployment and interest rates.
If The Fed has performed its job well, America's standard of living should be greatly improved today when compared with, say, 1938, when the country was still recovering from The Great Depression.
But MyBudget360 made some surprising discoveries when it compared 1938 prices with today's prices after using the U.S. Bureau of Labor Statistics inflation calculator to adjust for inflation.